LATEST NEWS
Erroneous Line: North Texas pick'em
North Texas was initially listed as a pick'em over Liberty instead of -13. Per rule 13.5, bets on this play are voided. You can re-bet the fake money, or take North Texas -13 with your original bet.
Marshall-South Carolina and Southern Miss-Appalachian State cancelled
More cancellations. Other games in the affected area have had their kickoff times moved up. Current game days/times appear in the Make Picks page.
ECU-VT, WVU-NC State, and Central Florida-UNC games postponed
These three games have been cancelled due to impending hurricane Florence. Any existing bets on them are voided, and any wager on them will be treated as a push. If you want the money freed up to bet something else, please send me an email.
Wagers on these games that were part of a parlay will be treated as pushes.
Other games have had dates, times, and locations changed. Ohio-Virginia has been moved to Nashville. Coastal Carolina-Campbell has been moved to Campbell (yes, the FCS team will host an FBS team). I will keep the bet list as current as possible.
UPDATE: Norfolk State-Liberty has also been cancelled.
Gambletron 2000 will no longer offer Memphis-Navy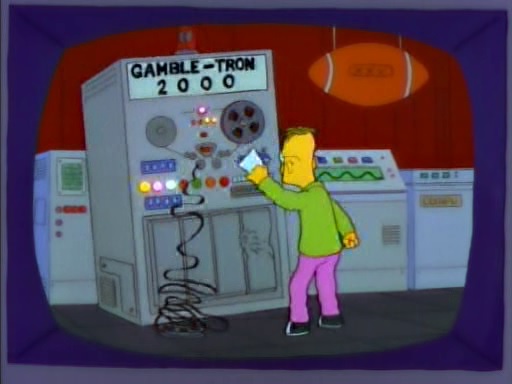 A bug has been fixed whereby the Gambletron kept offering the Memphis-Navy game, even long after it ended. This has been fixed. You cheeky bastards who tried betting on it after the game was ovver will have those bets voided. However, you will win Degenerate Bet of the Week.
Weekly Bet Minimum Fixed
Those of you who lost fake money last money had weekly bet limits of less than $250. This has been fixed.
Dashboard, View All Picks Pages Added
The new View All Picks page shows everyone's picks for the week. Picks are hidden until noon on Friday, or after each game kicks off. You can now view all your own picks, at any time, on the Dashboard page.
Cancelled/Postponed Games
Akron-Nebraska and South Dakota State-Iowa State have been cancelled due to weather. Any bets on these games will be returned. Betting these games still counts towards meeting weekly minimum requirements.
North Carolina A&T-East Carolina has been postponed to Sunday, 2:30 PM Eastern. The kickoff time has been updated, and this game is re-opened for new bets until kickoff. Any existing bets on those games will stand.
GAMBOLLLLLL! Feature
We have a new feature! The Gambletron 2000 lets you bet on a random game, for a -102 payoff, instead of the usual -110. A game and team is chosen at random. You can bet for any amount you want, with the usual restrictions. The offered team changes every 60-120 minutes (clicking refresh doesn't speed it up). Click the GAMBOLLLLLL! link above to try it.
The Parlay Button Works!
It took me forever, but you can now submit parlay wagers directly through the site. Log in, go to Make Picks, select 2 or 3 pointspread or over/under picks, and click the Parlay button. You will be prompted to enter one amount for the entire parlay. You will then get a confirmation screen.
Betting Window For The 2018 Season Is Open!
I'm opening it a little early, at about 11:20 Eastern time Sunday night, so I can go get drunk. The damned parlay button still isn't working right, so email me if you absolutely must make a parlay right now.
Straight bets should work correctly. Check out all the new features (many of which are still in development) and let me know if anything is broken.
Remember, Week 1 runs from August 25 through September 3. There are only four games August 25 (two of which involve FCS teams and probably won't have lines). But lines for the September 1 games are available for bets now.
Watch The Daily Stampede for announcements about the upcoming season. If you'd like to join, or need to recover your password, use the Contact link above.
New Website!
As you can tell, the PYU website is undergoing a rebuild. There is a new, improved look, and new features. Let me know of any problems you may encounter.
Here's what's new:
That damned Parlay button, finally
Improved, more mobile-friendly design
A dashboard page, with more information
More information and validation of bets before you enter them
An entirely new type of wager! (details forthcoming)
Games with lines are listed first!
...and more!
Known issues (as of 10:00 PM Eastern, Friday, August 24):
Dashboard is mostly blank (I will add your list of previous bets)
I don't have a "view picks" report online yet
Your total number of bets does not include parlay bets, which should count as one bet